ASEAN Workshop on Mainstreaming the Women, Peace and Security Agenda in ASEAN Community Pillars
Published:
Friday February 11, 2022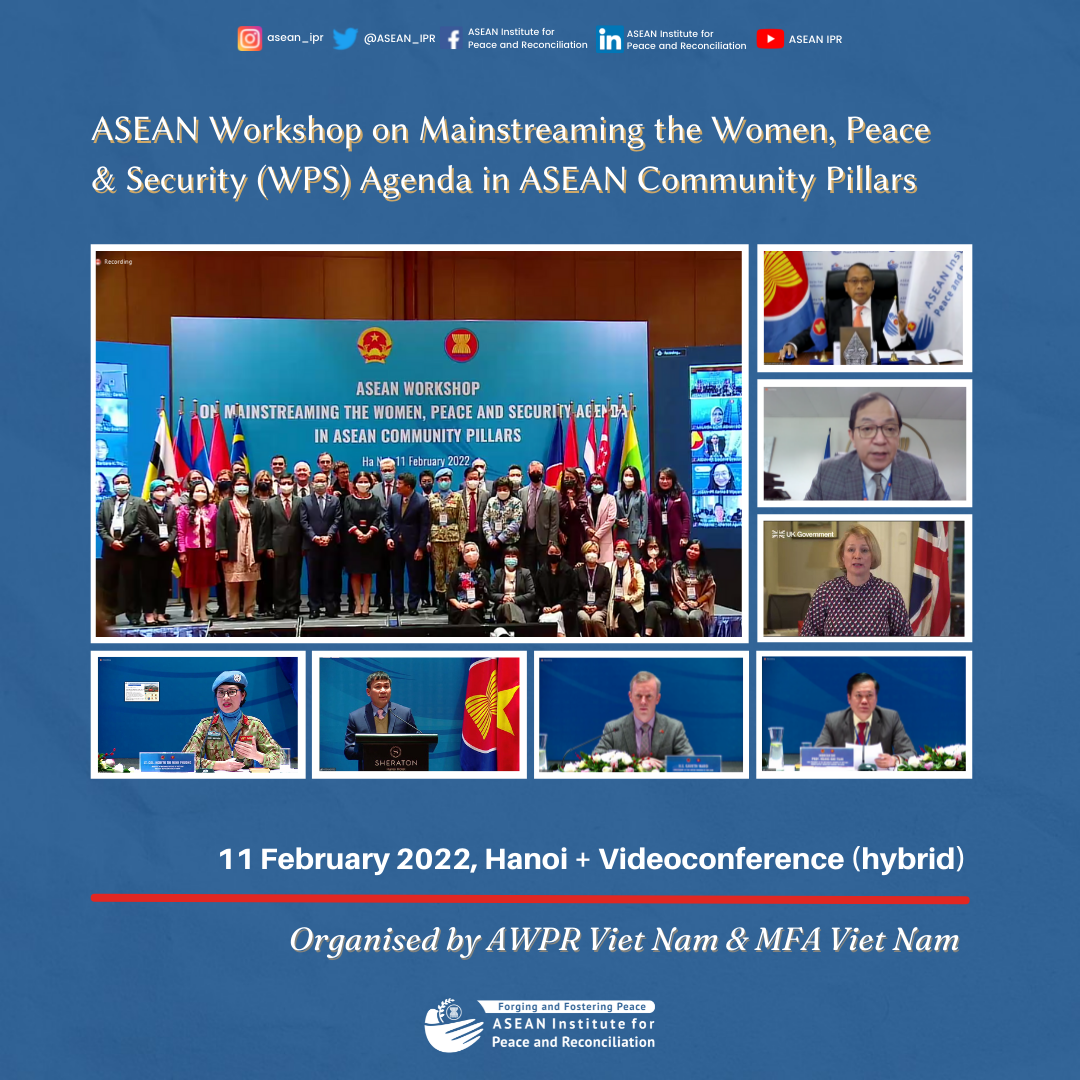 On 11 February 2022, Viet Nam Ministry of Foreign Affairs successfully hosted the "ASEAN Workshop on Mainstreaming the Women, Peace and Security (WPS) Agenda in ASEAN Community Pillars" as part of the ASEAN Women, Peace and Registry (AWPR) Work Plan.
Sponsored and supported by the ASEAN Institute for Peace and Reconciliation, the British Embassy in Viet Nam and UN Women, the Workshop welcomed the participation of Deputy Minister of Foreign Affairs of Viet Nam Nguyen Minh Vu; Minister for Africa, Latin America and the Caribbean of the United Kingdom Vicky Ford; Deputy Secretary-General for ASEAN Political-Security Community Michael Tene; and Cambodia's Permanent Secretary of the Ministry of Women's Affairs Kheng Samvada.
Over 200 participants attended the Workshop, including Ambassadors, policy-makers and experts from ASEAN Member States, ASEAN Secretariat, ASEAN External Partners, and ASEAN sectoral bodies, as well as representatives of international organizations, NGOs and academia.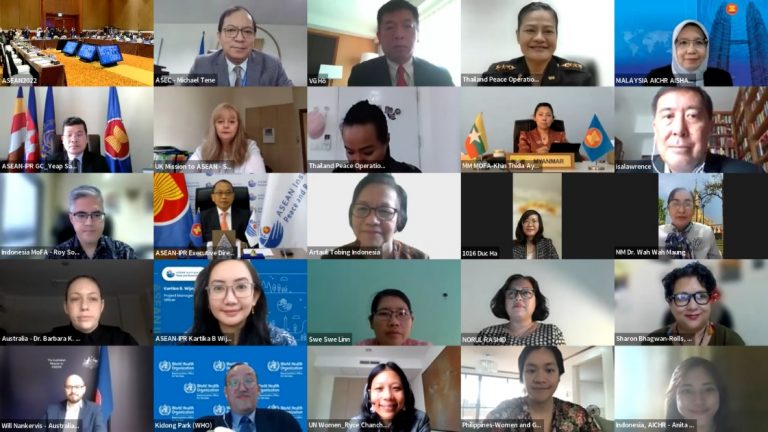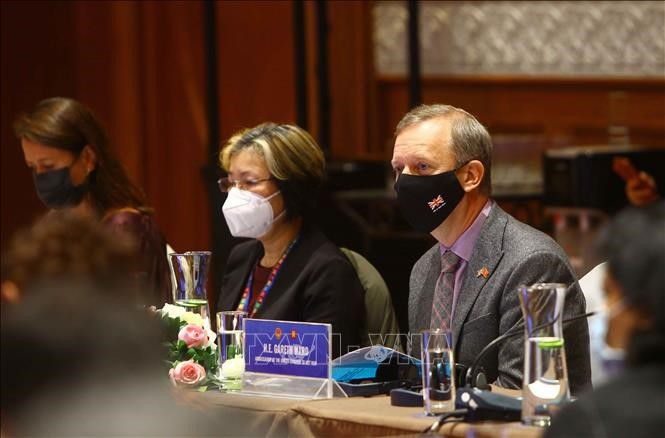 The Workshop marks a continuation of ASEAN's efforts to advance the WPS agenda in the region, following the 2017 adoption of the ASEAN Leaders' Joint Statement on Promoting Women, Peace and Security in ASEAN, the 2017 Regional Symposium on Implementing Women, Peace and Security Agenda in ASEAN, the ASEAN Women Leaders' Summit in 2020, and the launching of the ASEAN Regional Study on WPS in 2021.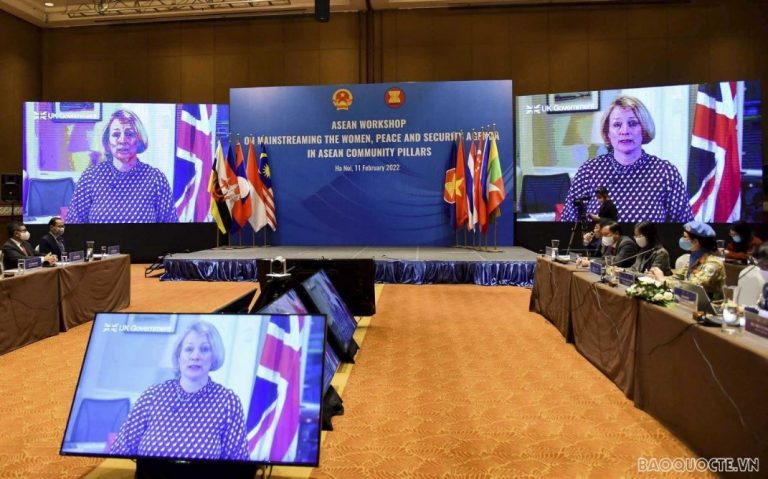 From the United Kingdom, Minister Vicky Ford reaffirmed the country's commitment to use their partnerships and resources to prioritize girls' education, sexual and reproductive health and rights, women's political and economic empowerment, and end gender-based violence including that in conflicted-related settings.
In ASEAN, the UK has strived to and will continue to accord strong support to increase representation in peace processes via multiple networks of women working in peace and security.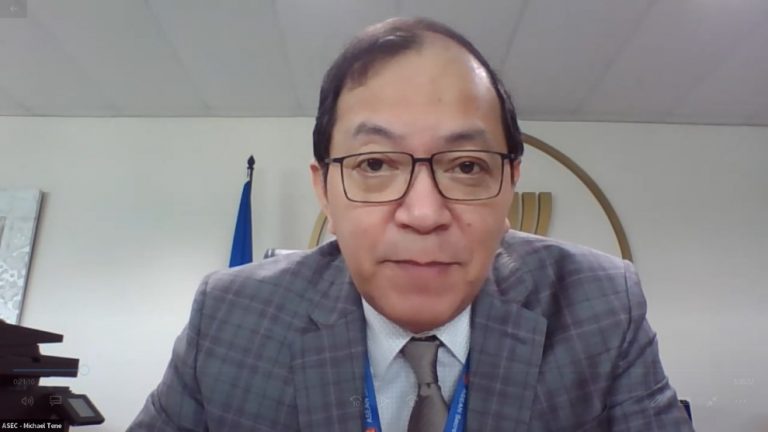 In the COVID-19 context, ASEAN needs to have a more in-depth discussion on how women are affected by the pandemic in the region and draft policies that could effectively mitigate the adverse impacts, said DSG Michael Tene.
Participants of the Workshop also got a grasp of ASEAN's efforts to promote equal participation and involvement of women in the maintenance and promotion of peace and security across all pillars and ASEAN-led mechanisms, including ADMM, ADMM Plus, and EAS. The establishment of the ASEAN Women Peace Registry is also part of the endeavors, said Ambassador Wesaka Puja, Executive Director of the ASEAN Institute for Peace and Security (ASEAN-IPR).
Leading experts and specialists also contributed concrete suggestions for ASEAN to advance the WPS agenda and integrate WPS into the region's broader regional agenda. National Action Plans and a Regional Action Plan on WPS are acknowledged by academia as tools that help to strengthen collaboration among countries and sectoral bodies in the Association.
The Workshop also complements the momentum that the ASEAN 2022 Chair Cambodia has gathered for promoting WPS. Cambodia identifies incorporating WPS within ASEAN frameworks and Community-building efforts as one of its priorities, as stated by Permanent Secretary Kheng Samvada.
On the way forward, ASEAN will foster actions to ensure protection and inclusion of women in peace processes, economic empowerment and realization of sustainable development goals amid the emerging traditional and non-traditional security challenges. Implementation measures include a regional plan of action on WPS, the ASEAN Gender Mainstreaming Strategic Framework (AGMSF) and strong collaboration and initiatives by relevant ASEAN bodies and entities such as ASEAN-IPR, ASEAN Committee on Women (ACW), ASEAN Commission on the Promotion and Protection of the Rights of Women and Chidren (ACWC), and the ASEAN Advisory group on WPS. Women should be placed at the center of such efforts and empowered to become agents of change.