Ha Noi workshop discusses progress on Women, Peace and Security, one year after the international conference
Published:
Tuesday December 7, 2021
Ha Noi, Viet Nam — A workshop last month not only showed Viet Nam's efforts in realizing its international commitments such as the Ha Noi Commitment to Action on Women, Peace and Security (WPS), but also initiated further discussion on the advancement of the WPS agenda and governmental response in times of crisis, like the Covid-19 pandemic, to protect women and girls from additional harm and to make progress towards peace, equality and inclusion for all.
The workshop, titled "Accelerating the Implementation of the Women, Peace and Security Agenda: The Role of National Action Plans" (NAPs), hosted by the Viet Nam's Ministry of Foreign Affairs (MOFA) in partnership with UN Women, was held in Ha Noi on 7 December to take stock one year after an international conference on the same topic.
The workshop was attended by more than WPS 100 practitioners from around the world, along with political leaders, academics, and representatives of the UN and of civil society, including women's organizations. It presented models and best practices of NAPs from across the globe, as well as common challenges for their development and implementation.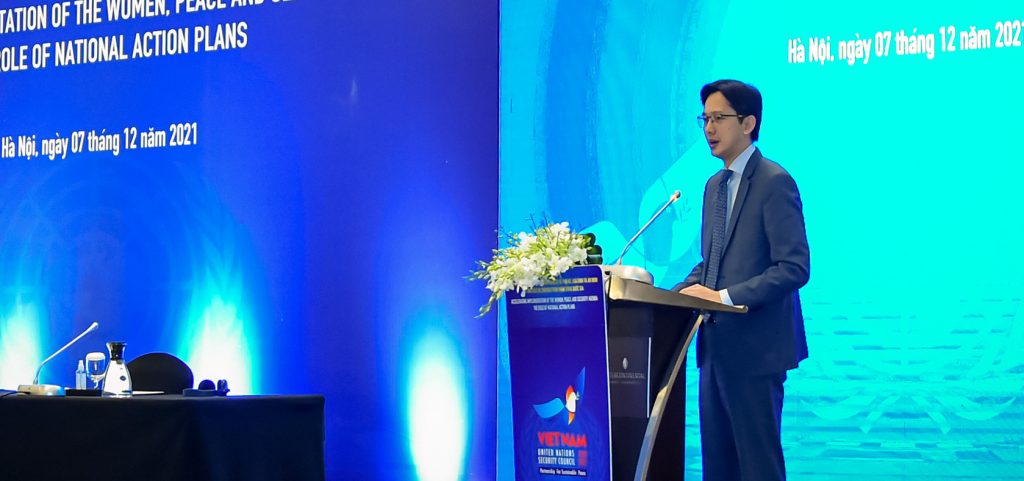 "Experiences and sharing from international experts will be valuable sources for Viet Nam to have a comprehensive picture on accelerating the implementation of the WPS Agenda," said Do Hung Viet, assistant minister of foreign affairs, in his opening remarks. It will help pave the way for the possible development of a NAP, or a similarly effective and efficient WPS framework, for Viet Nam."
"There is a need for strong political will to drive the political WPS agenda forward," said Ryce Chanchai, UN Women specialist for Governance, Peace and Security. "Today, we are facing different landscapes of WPS issues. And, because of the different dimensions of WPS, this goes beyond the traditional notion of security challenges involving only armed conflicts and military security. Emerging issues such as the Covid-19 Pandemic have demonstrated that the absence of war doesn't mean peace and security."
The WPS agenda is based on the UN Security Council Resolution 1325, adopted in 2000, and on subsequent relevant agreements. The resolution underlines the role of women in the prevention and resolution of conflicts, as well as the need for special measures for their protection, and guide for actions by the member states as well as by UN entities. In December 2020, the WPS agenda was reinforced by the Ha Noi Commitment to Action, which was endorsed by 75 countries, and launched on the 20th anniversary of UNSCR 1325 through the International Conference hosted by Viet Nam.
As of September 2021, 98 UN member states have already formulated and adopted NAPs on WPS. Each NAP prioritizes different aspects according to national and international settings and provides information on how WPS activities are governed, funded, and monitored. The comprehensive WPS Agenda includes the four pillars of prevention, protection, participation, and relief and recovery. These, along with frameworks such as NAPs, will be a solid basis for any state seeking to sustain peace and support development and can help equip Viet Nam with strategies and resources to face its own emerging peace and security challenges.
Such an approach can also help beyond peace and security, to achieve the Sustainable Development Goals and meet other international commitments to gender equality. Such objectives include the promotion of women and girls' equal access to resources and services, social, economic, business, and professional opportunities, and their full participation in decision-making processes.