International Workshop to discuss high-impact models of National Action Plan (NAP) on Women, Peace, and Security – the way forward for a NAP of Viet Nam
Published:
Monday March 28, 2022
Ha Noi, Viet Nam – An international workshop on National Action Plan (NAP) on Women, Peace, and Security (WPS) was held today in Ha Noi, hosted by the Ministry of Foreign Affairs (MOFA) in partnership with UN Women.
Building on the momentum and commitments from the International Conference on Women, Peace and Security which was successfully hosted by Viet Nam in Ha Noi in late 2021, today's international workshop brought together WPS experts and more than 100 representatives from the Viet Nam National Assembly, Government ministries, United Nations, and other agencies, both offline and online, to discuss how to accelerate the development of a National Action Plan on WPS for Viet Nam, as part of its international commitment to implement the WPS Agenda.
By examining six different NAP models from Canada, Norway, Sudan, Uganda, Indonesia, and Thailand, the Workshop raised further awareness among Vietnamese stakeholders about the strategic importance of having a clear plan of action on WPS. Sharing good international practices on NAP implementation and relevant decision-making processes, the workshop also called for cross-ministerial collaboration by related government agencies to develop a NAP roadmap that articulates the vision and ambition of Viet Nam to advance the WPS Agenda. The development of a well-resourced National Action Plan on WPS was a key provision in the Hanoi Commitment for Action, which is the outcome document of the global conference on WPS held in Viet Nam in December 2020.
In his opening remarks, Mr. Do Hung Viet, Assistant Foreign Minister of Viet Nam, emphasized that national action plans on WPS will help connect, orient and coordinate efforts at the national level with a view to promoting the role of women and girls in peace processes. He affirmed that the study of these plans opens a new direction to continue Vietnam's initiatives at the United Nations Security Council, promotes Viet Nam's active role and affirms its strong commitment in the field of gender equality in general and Women, Peace and Security in particular.
"A National Action Plan on Women, Peace and Security can be a powerful and complementary tool to the existing efforts by the Government to strengthen the protection and empowerment of women. The National Action Plan elevates for attention and action the multiple security needs faced by women in Viet Nam, including to cope with emerging threats like COVID-19 pandemic, which has exacerbated pre-existing gender inequalities in many countries. Strong political will and commitment can further the determination of the Government of Viet Nam to enhance the implementation of the WPS Agenda," said Rana Flowers, United Nations Resident Coordinator ad interim of Viet Nam, and Representative of United Nations Children's Fund (UNICEF).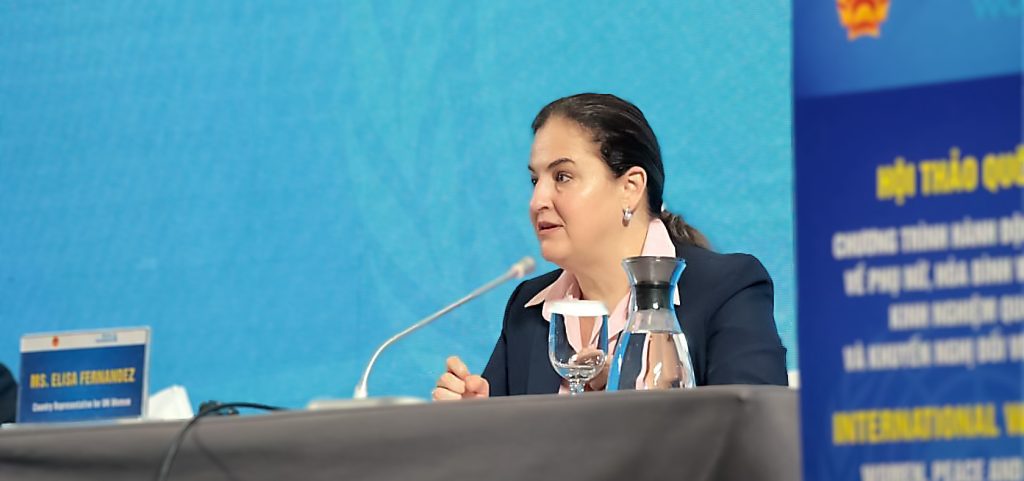 "The formulation of the NAP on WPS will allow the government of Viet Nam to reflect on its existing efforts for gender equality and the WPS agenda, identify future priorities and opportunities, and ensure policy coherence. It will also help generate synergies between national strategies such as the National Strategy for Gender Equality and the National Action Plan to implement the United Nations 2030 Agenda for Sustainable Development. UN Women, together with other UN agencies, stands ready to provide full support to the Viet Nam government and the related stakeholders in this task", indicated Elisa Fernandez Saenz, UN Women Viet Nam Representative.
The Workshop was implemented under the framework of UN Women's regional project "Empowering Women for Sustainable Peace: Preventing Violence and Promoting Social Cohesion in ASEAN". The Governments of Canada and the Republic of Korea fund the project. Today's workshop was also supported by the Government of Australia and the British Embassy in Ha Noi.
For more information

Please contact:

Hoang Bich Thao
UN Women Communications Officer, Viet Nam
E: [ Click to reveal ]

For more information, stories of women peace leaders, and new data on Women, Peace, and Security, visit: https://www.unwomen.org/en/news/in-focus/women-peace-security

For the most recent study on Women, Peace, and Security in the ASEAN region, visit: https://asiapacific.unwomen.org/en/digital-library/publications/2021/03/asean-regional-study-on-women-peace-and-security#vn

For additional data on Women, Peace, and Security, click here.