UN Women-suported workshop: Promoting policewomen can strengthen prevention of violence against women and girls
Published:
Monday June 13, 2022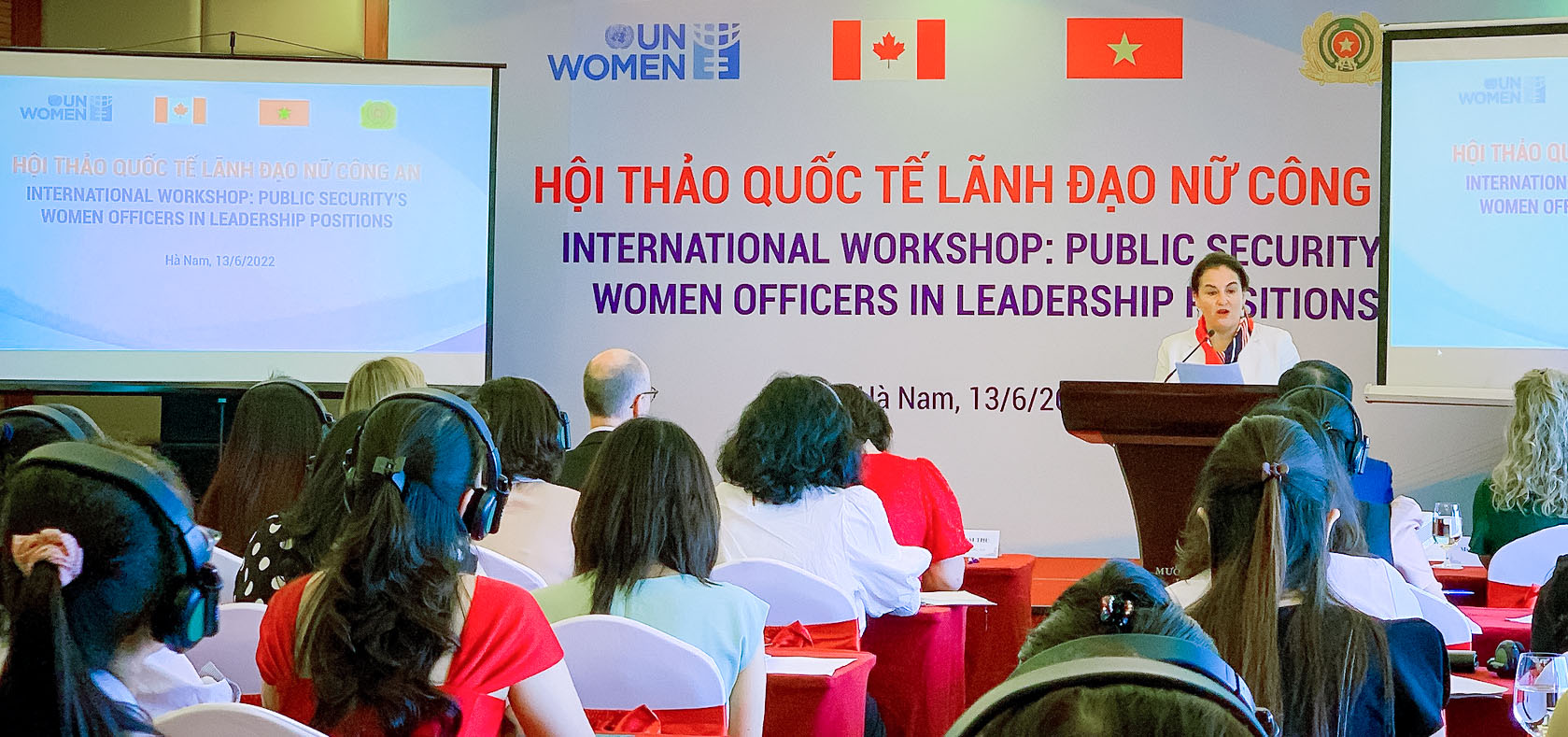 Phu Ly, Viet Nam — An international workshop to strengthen the capacities of female officers in leadership positions was held today in this city in Ha Nam province for 40 senior policewomen from northern provinces and Hanoi. The Department of Foreign Relations, Ministry of Public Security, hosted the workshop in partnership with UN Women.
Promoting female officers to leadership and technical roles as first responders to emerging security issues can strengthen the ability of law enforcement to mitigate risks; prevent and fight crimes against women and girls; ensure access to justice; and facilitate gender-responsive services to female victims of human trafficking, family violence, sexual abuse and cybercrimes. Increasing the representation and roles of women in policing reduces the incidence of violence against women in many circumstances.
According to the UN Women report Women in Law Enforcement in the ASEAN Region, policewomen have found their career advancement hindered by lack of opportunities to gain operational and technical experience and networking; bias in favor of male colleagues for promotion; stereotypes that prioritize women's role in family over profession; and high social expectations on female leaders of families and departments/bureaus.
In opening the workshop, Shawn Steil, Ambassador of Canada to Viet Nam, said: "Evidence shows that women's voices and leadership not only make a difference—they bring lasting peace that benefits their communities and countries. When women are involved in peace and security efforts, solutions are more comprehensive, reflecting what a community actually needs to recover from conflict. This increases community buy-in and offers a better opportunity to address the root causes of conflict."
In her opening remarks, Elisa Fernandez, UN Women's Head of Office in Viet Nam, said: "The National Strategy on Gender Equality 2021-2030 has paved the way for policewomen in Viet Nam to transition to a higher level of partnership with policemen, where women are promoted equally based on the principles of equity, duties, policies and respect, and both sides work toward reducing and eliminating stereotypes and gender-based discrimination, both at work and at home."
With investments in their professional development, policewomen leaders will be able to respond to the demands of gender-sensitive policing and emerging crimes such as cybercrimes. And Viet Nam can translate into action its international and national commitments to gender equality and the United Nations Women, Peace and Security agenda.
Colonel Ngo Hoai Thu, Chairman of the Women's Union of Public Security, and Colonel Le Duc Tuyen, Deputy Director of the Department of External Relations of the Ministry of Public Security, attended the workshop together with Supt. Marie-Claude Côté of the Royal Canadian Mounted Police and Gaelle Demolis, UN Women Regional Office Programme Specialist on Governance, Peace and Security. Côté and Demolis shared their international experience and insights on cybersecurity in the ASEAN region.
The workshop was organized under UN Women's regional project, Empowering Women for Sustainable Peace: Preventing Violence and Promoting Social Cohesion in ASEAN, funded by the Governments of Canada and the Republic of Korea.
For more information, please contact:

Hoang Bich Thao, UN Women Communications Officer, Viet Nam
[ Click to reveal ]
Tel +841205143996